Permits
The rules are a watershed-wide regulatory structure that ensures a consistent level of resource protection across the watershed as required by the Metropolitan Surface Water Management Act. The District developed rules for: floodplain management and drainage alterations, erosion prevention and sediment control, wetland and creek buffers, dredging and sediment removal, shoreline and streambank stabilization, waterbody crossings and structures, appropriation of public surface waters, and stormwater management.
These rules are effective as of January 1st, 2020. They were adopted to protect the public's health and welfare as well as the natural resources of the District and are enforceable under Minnesota Statute.
Permits are due no less than 30 business days prior to the board meeting.
Rules
Supporting documents
Atlas 14 Nested Distributions
---
---
Partners
The District appreciates its partnership with Carver Soil and Water Conservation Distric (SWCD) in their assistance with construction compliance.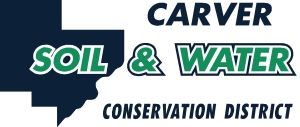 Link to Minnesota Pollution Control Agency salt applicator certification courses, as required by Rule J, subsection 3.8.