2022 Gravel Growers Giveaway
What is a Gravel Grower?
Our gravel growers are young trees and shrubs that are being temporarily housed in gravel beds so that their roots can grow dense and hardy. While in a gravel bed, a sapling will grow at it's normal rate above ground, but below ground will form a fibrous root system that will give it an advantage when it's eventually planted in the ground.
Learn more about gravel beds.
Trees
The Watershed District will provide saplings to residents interested in having them planted on their property. Planting trees on your property provides a full range of ecosystem services, and are an excellent way to minimize stormwater runoff. The leaves of the tree, or canopy, provide surface area for rainwater to land and be absorbed as well as slow down rain as it falls. The roots of a tree not only take in water but also create healthy soil conditions which promote better infiltration. Trees also help control erosion and runoff along our lakes and creeks by using their roots to stabilize slopes and capturing nutrients before they can reach our waterways.
Learn more about the benefit of trees.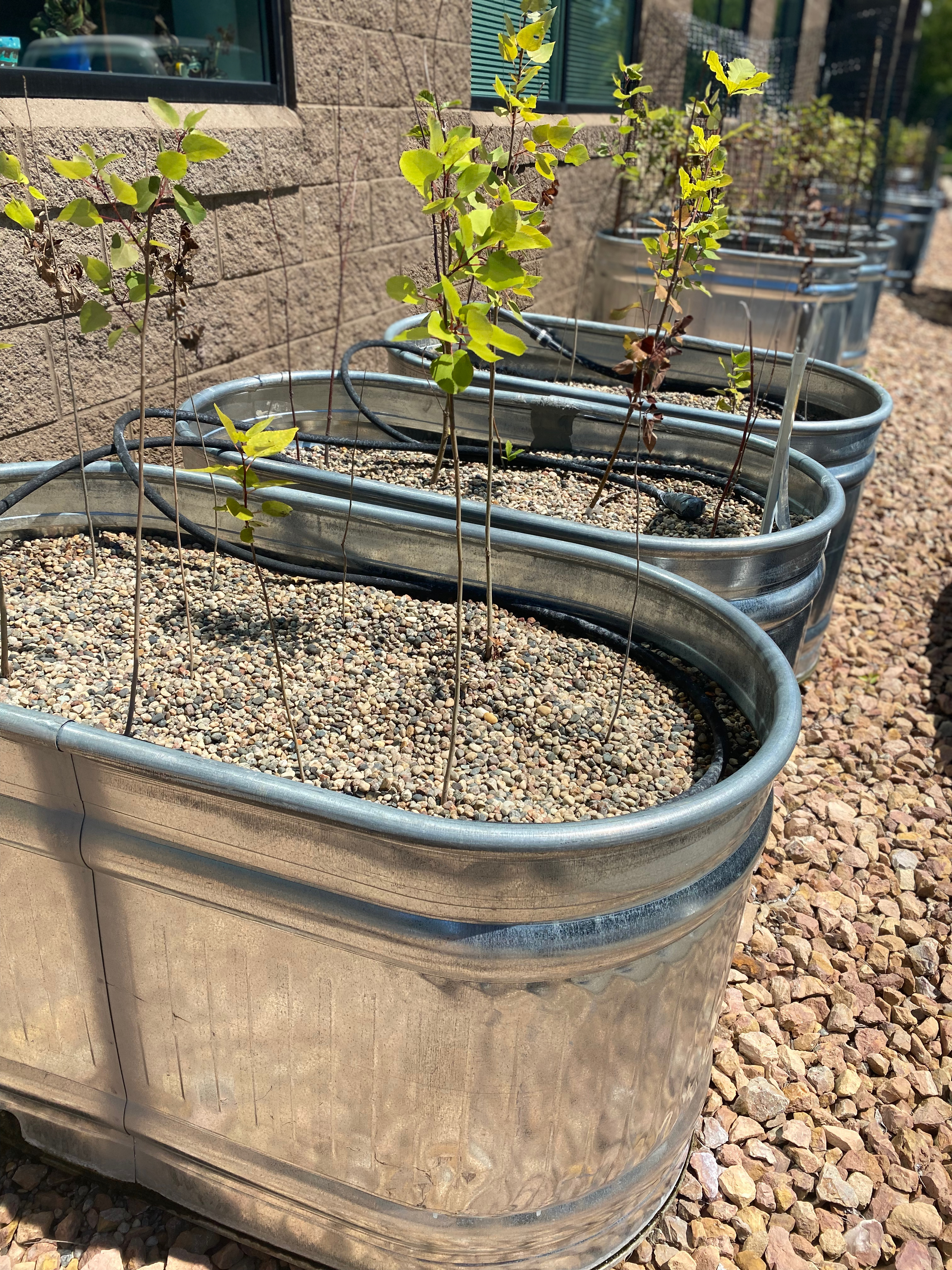 The Giveaway
Interested in adopting a tree? We have over 100 trees waiting to be planted! Trees will be young saplings, approximately 2-3 feet tall. Species available include:
Bur Oak SOLD OUT
American Plum
Red Splendor Crabapple
Red Osier Dogwood
Chokecherry SOLD OUT
American Elderberry SOLD OUT
Please note that while we will do our best to fulfill your preference, species availability is subject to change.

Learn about our Nursery!
Preference will be given to residents of the Riley Purgatory Bluff Creek Watershed District. See if you live within our bounds.
Sign up for a tree

All trees have now been reserved! Stay tuned for reservations for trees in 2023.

Our Gravel Growers:

Bur Oak
Bur oak is the most common oak tree in Minnesota, and can grow to heights of 60-80 feet. Bur oaks can be found growing on dry uplands on limestone and gravelly ridges, sandy plains, and loamy slopes. They can also be found growing in moist flood plains of streams. They are tolerant of drought conditions and occasional flooding, and prefer full sun.
Read more about Bur Oaks.
American Plum
The American plum is a small, deciduous single or multi-stemmed hardwood tree or small shrub. It quickly grows to be 15-25 feet tall and equally wide. They prefer well-drained moist soils but can also tolerate alkaline, acidic, and clay soils. They also tolerate dry sites, salt spray, poor drainage, wet sites, and drought, and can typically be found growing along roadsides, fields, and fence rows. American plums prefer full sun to partial shade.
Read more about American Plum.
Red Splendor Crabapple
A medium hardwood tree, Crabapple trees grow up to 25 feet with a spread of around 20 feet. Crabapples bloom in the spring, bearing flowers. They can grow in a variety of different site conditions such as valleys and lower slopes, borders of forests, fence rows, fields, and along streams in prairies. They needs moist, well-drained slightly acidic soils, and thrive in full sun.
Read more about Red Splendor Crabapple.
Red-Osier Dogwood
A favorite of landscapers and gardeners, the Red-Osier Dogwood is known for its bright red stems which provide of pop of color year-round. A very hardy shrub, the Red-Osier Dogwood will tolerate clay soils, wet soils, occasional drought, and shade- though it thrives in moist soils, making it effective erosion control along streambanks. The Red-Osier Dogwood is considered a large shrub, growing quickly to heights of 7-9 feet and spreading slowly outward up to 10 feet.
Read more about Red-Osier Dogwood.

Chokecherry
A small shrub or tree, Chokecherrys can grow to heights around 20-30 feet with a 15-20 foot spread. Chokecherry flowers bloom in clusters in late spring and provide a sweet aroma. Chokecherry can be found growing in moist alkaline soils along streams located in mountains, forest borders, clearings, and roadsides. The shrub can also grow in dry soils and prefers full sun to partial shade.
Read more about Chokecherry.

American Elderberry
Elderberry is a large multi-stemmed shrub that grows to around 5-12 feet high and equally wide. The shrub is often used for hedges and makes a great landscaping addition. Mass suckering from the shrub can be beneficial for areas that are being naturalized. Elderberry grows in well-drained, acid or alkaline soils with full sun to partial shade. It can tolerate moderate drought and moderate flooding, and is tolerant of road salt.
Read more about Elderberry.