---
As of September 21, 2022, NEW applications are not being accepted.
Attention municipal partners: If you are in the pre-application stage, please reach out to Liz Forbes for next steps.
Due to the Watershed Steward Grant program's popularity, we are not accepting new applications at this time.
You can still request a site visit to begin planning for next year!
---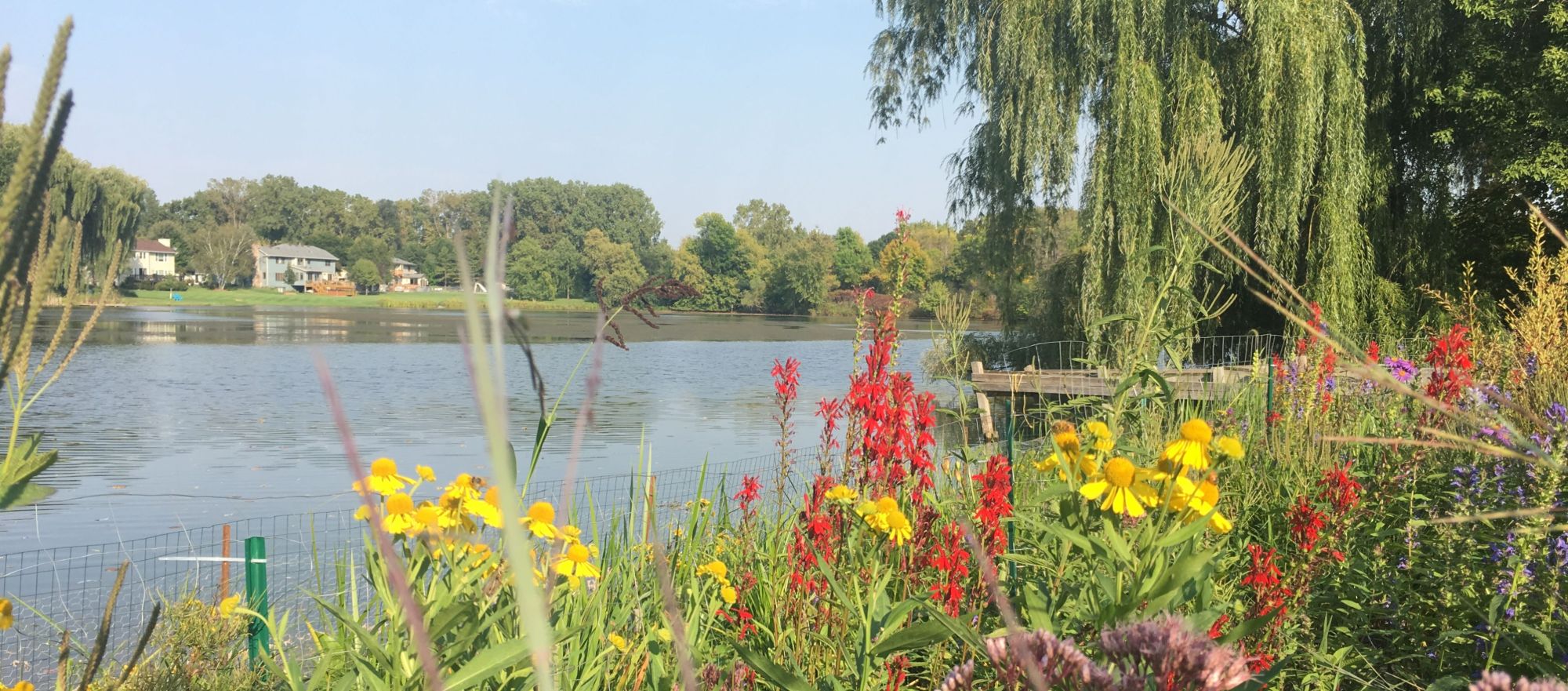 Funding and technical advice for projects that protect and improve water resources
The Watershed Stewardship Grant program offers financial support and resources for clean water projects to residents and organizations in the watershed district. Project examples include raingardens, native plant buffers, wetland restorations, rainwater reuse, erosion control, and tree trenches.
---
---
Who May Apply
Applicants must be the property owner or authorized representative of the property owner(s).
Eligible applicant categories include:
Individual homeowners

Non-profits (including home, townhome and lake associations)

Schools

Businesses

Local government ​​​
Grant Awards
The grant review committee evaluated applications for their level of benefit to water resources. The cost-share award for eligible projects ranges from 25% to 75%.
Maximum Awards
Homeowners: Up to 75% of the project cost ($5,000 maximum)

Non-profits: Up to 75% of the project cost ($20,000 maximum)

Gov/school/business: Up to 50% of the project cost ($50,000 maximum)
How it works
Before submitting an application, you must first request a site visit. These are scheduled on weekdays during business hours and subject to staff availability. The site visit allows evaluation of your site and discussion about your project idea.
After the site visit , you may submit a grant application. After initial screening by the grant coordinator, the application is reviewed by the grant review committee, which meets about once a month to evaluate and make decisions on applications. Decisions may include a request for more information, adjustments to project design, denial of a grant award, or offer of a grant award.
Typical grant award offers range from 25% to 75% of project cost. Projects with a greater water quality benefit score higher than those with a smaller water quality benefit. If grant is offered, the applicant must review and sign the grant agreement. Non-profits and businesses will also have to sign and file a maintenance declaration with their county recorder office. Once approved by the District Administrator (in some cases the Board of Managers must also approve), the project may begin.
The grantee pays for all project costs up front. Once the project is complete or near complete, the grantee will need to schedule a project inspection. The grantee must also submit a project report including receipts and photos. After inspection and report submisstion, the grant coordinator will submit paperwork for the grant reimbursement. The actual grant payment (in the form of a check) will mailed to the grantee following the next available Board of Managers meeting.
Overview of Process
The image below provides an overview of the grant process. Open a PDF version of the image. The task timeline represent the general grant process including what actions are to be taken by the applicant/grantee (that's you!) and District staff.
The three parts to the process are:
Part 1: Application
Part 2: Build your project
Part 3: Reimbursement
After your project is complete, you are required to maintain it for 5 years if you are a homeowner and 10 years for other applicant categories.
The Process in Detail
Before you apply
Review the Grant Program Policies (updated March 2022).
Fill out/submit the request a site visit form.
We will notify you by email about a site visit day/time within 7 business days. [IMPORTANT: Sometimes this email gets caught in spam/junk folders. Check these folders in your email account or add lforbes@rpbcwd.org to your email contacts.]
Design your project. You can design the project yourself based on recommendations from the technician, or you hire a private company/contractor to design the project. We encourage you to submit the plan to technician for preliminary review. The technician can help calculate the water quality benefits portion of the application. Make sure you are meeting requirements for your project type:
To apply
Before you submit the application, review a reference copy of the grant application form (pdf ). NOTE: This pdf is for reference only - do not use this when submitting an application. You need to use the online form to submit your application. Questions? Email the grant coordinator.


Review the project-specific requirements if you have one of these projects:


Gather all of the necessary information needed BEFORE submitting an application. The more detailed information you provide, the less likely we'll have to go back-and-forth to ask for more information. Information/materials you will need to provide:
Project Map: Provide a map showing the location of where the project would be on your property. An aerial (satellite) image of your property with contour/topographic lines is preferred. [Tip: Go to the "Tools & Resources" section at the bottom of this page to find links for your county's online property map; these have measuring and drawing tools!] Reach out to the grant coordinator for assistance. A hand-drawn map is fine if it provides details adequate for assessing your project. Take a look at these examples: Example 1, Example 2, Example 3.

Project Design: Provide a sketch of your project design with details such as location of features, planting plan with locations of plants, etc. Include a size reference to help us understand the approximate size of your project. If your project is simple, like adding a rain barrel to a downspout, this may not be needed.

Photos: Provide two or more photos of project area as it looks now (before project installation).

Cost Estimate: If you plan to do the project yourself, you'll need to submit an itemized cost estimate (materials, equipment rentals, in-kind labor, etc.). If you plan to hire a company/contractor to do part or all of the project work, please provide a detailed quote or bid from that company. Download this Grant Project Estimator (this is an Excel file you can open in Microsoft Excel or open in Google Sheets through your free Google/Gmail account) to help you estimate costs.
Plant list: If your project includes plants, provide the plant/seed list including quantity. Include other relevant information such as seed mix name, seeding rate, quantity of plants, and size of plants (e.g. plug, pot size, multi-pack, etc.). This list will help us evaluate if your plant selections are appropriate for the site. In other words, let us know what plant is going where. For native habitat restoration, shoreline restoration projects and native plantings/gardens, only native plants/seeds are allowed and you must provide SCIENTIFIC NAMES. The native plants must be native to our Minnesota ecoregion. Native plants for these projects must also be in their natural (wild) form and may NOT be cultivated varieties (bred by people for specific characteristics).
Once you have gathered all information and materials, fill out and submit the online grant application form. While the form has been set up to save your responses, your local device may not be. Tip: Use a word processing program (e.g. Word) to put together your application responses in advance, then copy and paste these into the form.
If you've reached the maximum file upload in the application form, you can email additional files to the grant program coordinator at lforbes@rpbcwd.org.
If your project is approved
We will send you a grant agreement contract. Once this is signed, you can get started!
Keep track of your expenses including all receipts.
Issues come up. If you think you need to make a change to your plan, contact us in advance so changes may be considered for approval.
Take lots of photos! Before, during, and after. You'll need photos to submit in your project report.
You've got ONE YEAR to complete your project once grant has been approved.
After you complete your project
Submit a project report to the grant coordinator. Your report must include:

Total project cost
Copies of receipts that show vendor information, date of purchase, and item name/cost (invoices must be marked as "paid in full" or have proof of payment to be considered a receipt). If your receipt includes items not used for the project (e.g. candy bar), please draw a line through these on the receipt or communicate these items to the grant coordinator.
List of in-kind contributions (e.g. personal labor hours) you would like credited to the project
Photographs of completed project
Short written description about project (how did it go, what did you learn, how do you plan to maintain the project site, etc.)

Request a project inspection by emailing or calling the grant coordinator. If you submit your project report and haven't scheduled the project inspection, we will reach out to you. *Timing: you may schedule the inspection as soon as the project is nearing completion.
Once your project has passed the inspection, the grant coordinator will submit a payment request to the District administrator for approval. Once approved, the reimbursement will be in the form of a check mailed to your address (see timing info below).
When will I receive my grant reimbursement payment? That depends on when you submit your project report. If you submit all required information (including receipts) and there's enough time to perform a close-out site visit by the 15th of the month, then your reimbursement is likely to be mailed to you during the first full week of the following month. If your report and close-out site visit occur after the 15th of the month, then your reimbursement would likely be pushed back to the next District finance cycle (month after next).
Long-term
Take care of your project. Depending on the type of project/location, you are required to to maintain your project for 5 years or 10 years.
Complete an online project report each year to let us know how things are going. Please do this annually for 5 to 10 years (depending on what's stated in your grant agreement).
At the end of year two, a District representative will stop out for a progress visit.
Stay in contact! The watershed district often offers continuing education on topics such as maintenance plus other opportunities to learn and get involved.
Check your email spam folder!
We will primarily communicate with you through email. If you've never emailed us, we may end up in your spam folder. Please check your spam folder for messages or add lforbes@rpbcwd.org to your email contact list.
---
Documents
---
Step 2. Submit a grant application [NOT ACCEPTING NEW APPLICATIONS ]
Municipal partners: If you are in the pre-application stage, please reach out to Liz Forbes for next steps.
Step 3. Submit a project report for your completed project
Project annual reporting
(long-term after installation)
---
Deadlines
Due to the popularity of the program this year, we are no longer accepting NEW applications.
Did you know?
Your city, county, lake owners association, or other local organization may also offer grant funds to help protect water quality.
City of Eden Prairie Landscaping Rebate
---
Partners
The District appreciates its partnership with Carver Soil and Water Conservation District (SWCD) in their assistance with site visits and project inspections for this grant program.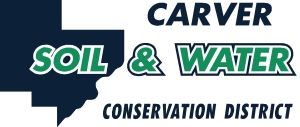 ---
Tools & Resources
Property Maps (Useful for project planning!)
Search for your address to find a property map and Property Identification (PID) number.
Templates
Native Plants
Shorelines
Rain Gardens
Bee, Meadow, and Natural Lawns
Insect Conservation
Soil Health
Testing